...do you ever have those times when you KNOW you have so much to do, but you end up doing something else anyway?
I had some orders to process and get out (they're done now and just shipped out today) and instead of working on them ASAP, I got kind of bored of them and tried something else instead. Kind of like a litle break to just refresh the interest in them again. Well, I didn't exactly stray too far as I kept working with beads, just a whole lot tinier!
I was wandering around Michaels and was trying to look for more things I could work with besides the regular, ol' generic kind of scrapping things and I impulsively grabbed a pack of clear seed beads. I looked around to see if there was any more colours I liked before I almost smacked myself in the forehead and though, I don't need to buy any more colours, that's what alcohol inks are for!
So homeward-bound I went and got out my alcohol inks (note to self: order more from Marti) and proceeded to PLAY! While the seed beads are much harder to work with (OMG, arthritis here I come!), it was a lot of fun because it's different and does not involve me staring so close at a "Skittle" bead that I'm almost cross-eyed.
So here's what I came out with after playtime!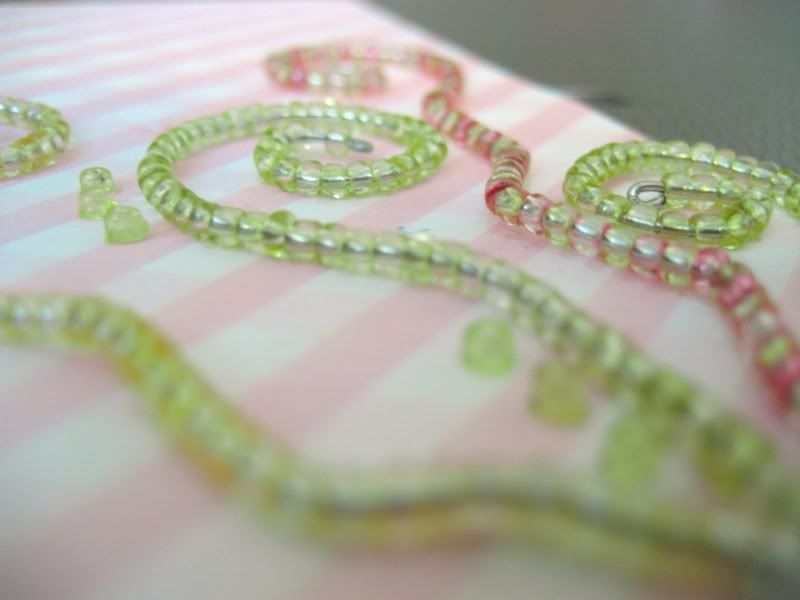 I know it sounds a little over-the-top, considering I made them, but I LOVE THEM! LOL...can't help it, they are so CUTE and SWEET looking! It's the whole clear glass beads with just a TOUCH of colour on them. I wanted an easier way to work with them on a layout or card, so I strung them on some floral wire (pretty much exactly the width of the opening of the bead) and just shaped it into what I wanted it to look like. Takes some trial and error I guess because the first few times, I didn't leave enough give and when I started bending the wire, some of the beads broke off. After I had enough shapes that I wanted, I used some Glossy Accents (à la Ranger - Marti, does your store carry this stuff?) and just pressed them down onto my card. Once the Glossy Accents dried, those babies were stuck for GOOD!
So that's a little less "Skittle"-talk for those of you who were getting tired of me going on and on about them...
The "Skittle" stars I got from Marti, I poured into a huge jar and they're just sitting there...haven't gotten much of an epiphany about how I'm going to use them...so there they sit...alone...jealously pouting at the "Skittle" beads and seed beads, wondering what they have that it doesn't....
I'm sorry "Skittle" stars, but your time will come...be patient...
CURRENT MOOD: CURRENTLY LISTENING TO: