...put your thinking caps on, peoples!
I'm so excited for Marti's new challenges on Fridays. You know those Studio G acrylic blocks that come with your stamp sets? Do you have a million of them just sitting around? Well, Marti is challenging you to come up with a WHOLE new way to use them - and it doesn't even have to be for stamping! Check out her blog for some tutorials and how-to tips and come on and join the fun!
Here is my entry for this Friday, can't wait to see all of yours!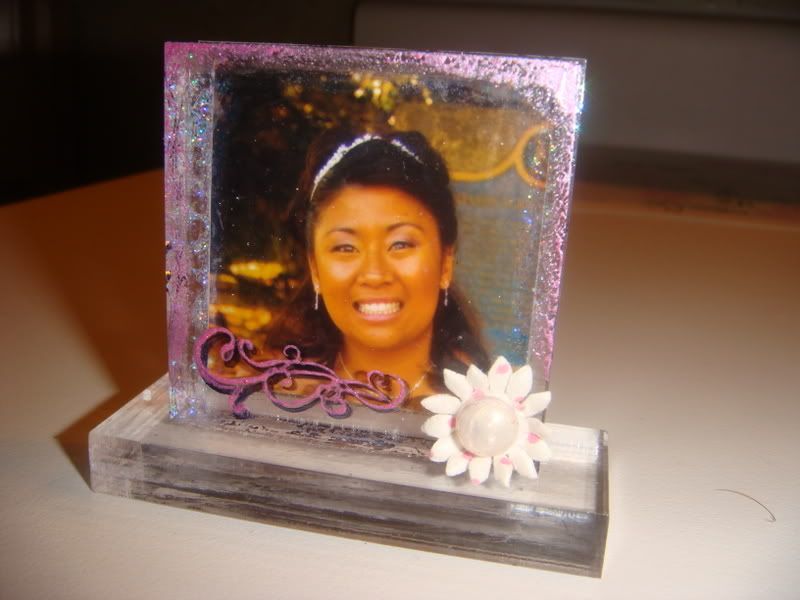 Let me see, let me see...I used the longer acrylic piece for the base of my picture frame, and the 3x3 (is it 3x3???) square block for my display.
So what I did was I used Glossy Accents to glue every thing together. It's a little bit tedious when the gloss is still wet, but when it dries, those suckers are pretty much stuck together!
I chose my picture and adhered it to the back of the block and I stamped a Studio G fluourish using my permanent black ink, and then stamped over that using Brilliance Drew Drop. Zapped it with my heat gun for a bit to set it and just used a teeny, tiny Prima and of course a "skittle" JewelPop for the centre.
I also used a little bit of Stickles on the back of the picture frame to show through, and inked the edges with my Dew Drop.
CURRENT MOOD: RUSHED CURRENTLY LISTENING TO: