...in a box! I totally lifted this from Katie's (http://katiespaperhaven.blogspot.com/) blog and I had a TON of trouble with it! LOL...it's not my fault you make everything look so easy, Katie! If you haven't had a chance to visit her blog, I suggest it be the next place you visit! I love her work!
I had originally planned on making six of these for my co-workers (with little treats inside) but the amount of work it took to make this one...well...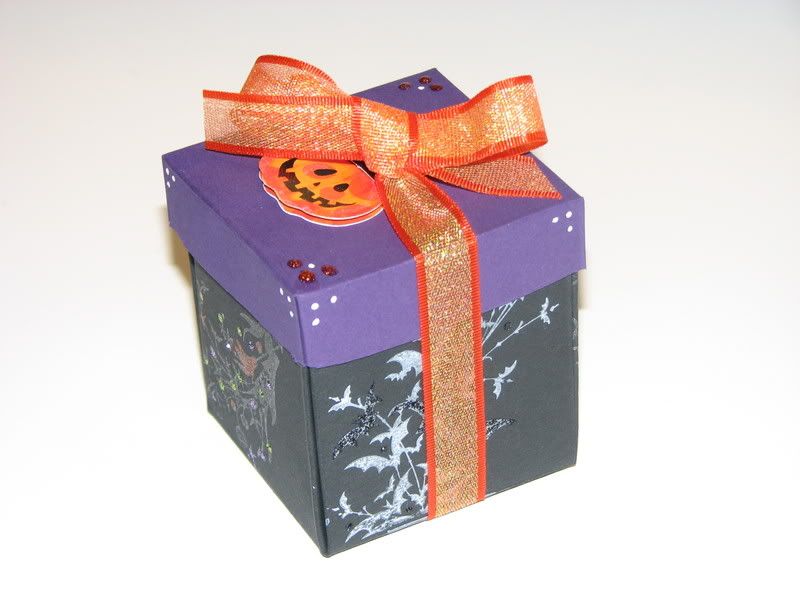 But it's SO CUTE! (I mean, if I do say so myself!) Each opposite sides of the box I stamped using two stamps (Inkadinkadoo's All Hallows Eve line). The bats, I stamped in Adirondack's PIGMENT (aka creamy yumminess) ink and I added BLACK Stickles to accent some of the bats. The other sides, I stamped the witch in Studio G silver ink and used Stickles to accent.

Gotta love Stickles against a black background! Other accents was a white gel pen, and Halloween 3D sticker from Dollarama. Ribbon was 50% off from Michael's (which sucks because it was still $1.99 after being half-off!)

And that's the inside - Halloween patterned paper from Michael's.
CURRENT MOOD: CURRENTLY LISTENING TO: