...mama mia! guess what I haven't talked about yet?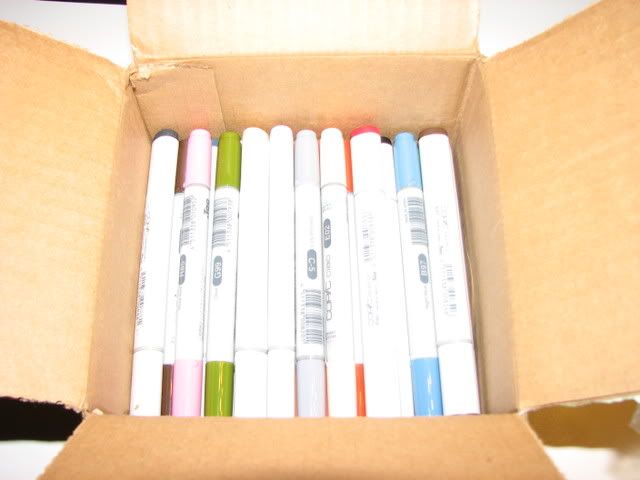 These came in the mail the other day! Well I shouldn't say it just like that, it makes it sound so easy, like they handed it to me with a box of chocolates or something. Because of duty and whatnot, they would NOT leave the box at my door because I owed them money, and the thing about UPS is that they'll say that they'll keep trying for THREE days to deliver. Meanwhile, I STILL won't be home any of the times that they would try so I had to call the center, go through the most ANNOYING voice prompt thingy where in the VERY FREAKING end, the machine won't understand what you're trying to say and will STILL put you on hold to get a real person which was what you wanted ANYWAY and then you'll have to tell the real person everything from the beginning! *breathes* So the nearest UPS facility is CLEAR across town and the rain and fog were SO bad the other night that we got LOST. Yes, in my own CITY! I mean, I'd been there once or twice before, but with all the fog, everything was just...blaaah! We got lost and it took us an HOUR to find the place. Then there was a line-up as all the trucks were getting in and unloading EVERYTHING so the place was a mess and the girl couldn't find anything that anyone wanted to pick up. Long story short, there's my babies - and I've got 24 more of them coming! *giggles* Certification class, here I come!
So of COURSE I had to play with them! Found out first and foremost that yeah, any of the inks I own don't work. Place a quick order with Marti...I love knowing people in high places! *LOL* While the order is coming I *whispers* printed off some digital stamps I just HAD to have now that I have COPICs on my work's laser printer. And here's my very first attempt at these oh-so-fickle COPICs!

I loves Anya! Okay, in real life (as opposed to what, right?) I had played around with my COPICs and the hood some more, but then I got this brilliant idea to FLOCK the whole hood, so all my wonderful shading disappeared. It wasn't all that great anyway, so you're just missing an opportunity to laugh at my colouring skills. But holy, moly I couldn't stop running my finger along her hood, it's so niiiiiice! So as you can see, I had a little bit of creative vomit go all over this card. I think I tried a little bit of everything on this...*laughs* If you'll notice my FIRST attempt at a stickpin/hatpin, WHATEVER pin. You can say it's ugly. I told it so myself...it's feelings weren't hurt that much. As you'll also see...if you're not blinded by the whole hot mess, SugarPops have made a little bit of a comeback. Named Ravishing Red after Miss Hood over there...
As I already mentioned, we're not the Valentine's Day kind of folks, so we're off with a huuuge group of friends (I say that like 3 other people and my brothers are a HUGE number...) are going TUBING! So fun, friends and snowpants are as romantic as it gets for this girl! But hoping you all have a wonderful Valentine's Day! Thanks for visiting!
MATERIALS
All hyperlinked products and materials are from Marti from Pez-a-Doodle Designs
Stamp: Red Riding Hood Anya Digital Stamp - The Greeting Farm
Ink: Laser Printer (*teehee*), Fired Brick Distress Ink
Paper: Bo Bunny from Pezzy's Picks (oh yummalicious!)
Colouring Medium: a la COPICs
Embellishments: Doodlebug Flock, SugarPops by Sugar & Scraps, stick pin, white paint pen, ribbon from Pezzy's Picks
CURRENT MOOD: CONTENT CURRENTLY LISTENING TO: I WEAR MY SUNGLASSES AT NIGHT - COREY HART (?)