"The boss chooses to meander out of his office and down the hall in time to hear my desperate whale cries of freedom."
...I went out yesterday to see what things I could offer for my blogaversary blog candy...here's a little peek at some of the things for the winner...I haven't really decided how it's all going to work, probably all the comments on my March 1 post...so don't forget to come back and visit me on the 1st!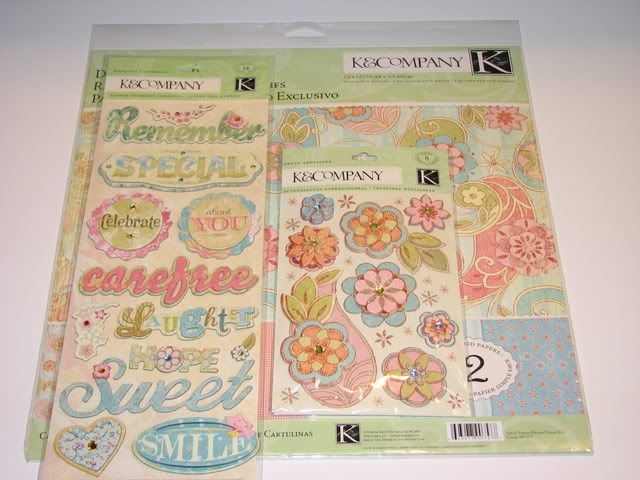 I loves me some K&Co. and I hope you do too!

So there's a K&Co. design paper pack with two packs of coordinating 3D stickers.

I have something on my mind right now and I'm wondering if I'm the only one this happens to...I certainly hope not, though!

CONFESSION #13
Whenever I'm hosting a giveaway or blog candy or anything of the sort, I always get carried away by the excitement and fun of showing pictures and describing things that's up for grabs that I end up wanting to keep what I'm giving away and forgetting all about the giveaway.

*giggles* Not to worry though! The winners of the Ultimate Tim Holtz giveaway that I hosted will be receiving their prizes directly from Marti and I won't have the chance to think about keeping it...*LOL* Although I still half wish that I could win it! I am such an alcohol ink addict!

Anyway! There's a little bit of my blog candy for my upcoming anniversary! I will be posting some more pictures once I get them all together, so hoping you come back and visit for a little bit of fun!

"I can't wait to be an auntie!
P.S. I hope I get something in the mail today!"
CURRENT MOOD: I HAVE NO IDEA CURRENTLY LISTENING TO: OFFICE SOUNDS