DISCLOSURE: (a) Any and all things written in this posting shall not be taken at all seriously should it offend or embarrass or confuse or otherwise impart feelings that are not of the warm and fuzzy variety to any of the readers (b) (poster is also not liable for any feelings of jealousy that the reader may feel at any time during this post). (c) Updates are subject to mistakes and error injected with heavy sarcasm and not-so-funny wit and awkward silences due to extreme exhaustion and a brain full of mucho information. (d) Poster is not liable for any miscommunication or error on the part of the reader for violating any of the above-stated sections/clauses.
x_____________________________
Signature
---

Okay! Now that we've gotten the legal stuff taken care of...(this sentence here would be covered under section (C) of the discloure. *awkward silence.....*
Before I went on with any of the updates and mind-boggling-ness of the AWESOME announcements that I have and that Marti from Pez-a-Doodle Designs has in store for you, I just wanted to stop and say
~* thank you *~
to everyone who has been taking precious time out of their day to come visit me and to read me blathering on and on. I mean, the number one reason that makes any of this fun is to be able to share it with you! Without you wanting to read it, then I'd pretty much just be bragging to no one, wouldn't I? Honestly, thanks again for visiting and for leaving all the fun, well-wishing, motivating comments. I want you to know that I read EVERY single one (I'm sorry I haven't been able to reply to all of them!) but Marti and I do discuss the suggestions and comments that you leave that is regarding products and Pez-a-Doodle and I just wanted you to know that though you are not here, you are not going unheard!
And for those comments that aren't product-related, let me just tell you, that you have all helped me get through my very first trip all by myself! I feel like one of those diaper commercials, you know? I can do it aaaall by myself - I'm a big girl now! *awkward silence....*
Side note: In two hours and twenty minutes, I will have been up for 24 hours. Weird...*awkward silence.....*
Okay, I keep meandering and digressing because I'm positive I may have fallen asleep every couple of minutes...my eyes are blinking and they are forgetting to open.
A few official Pez-a-Doodle announcements. I'm not entirely sure that I can actually release this information at the moment, so don't tell anyone I told you! It'll be our little secret, just us, okay? Besides, I have gained some extra valuable information this weekend that I'm sure I can use as collateral should I fall into the unfavorable graces of Marti for telling...*LOL*...all you need to know is that it's good blackmail material *TEEHEE*
Okay, again, I wandered off! Right, I was going to make an announcement!
***
In a few short months (release date, I believe is MARCH), Pez-a-Doodle Designs will be carrying the NEW RELEASES of the boxed sets from...FLOWER SOFT! Oh YEAH, I'm so excited! Almost a year ago when Marti and I began posting about Flower Soft, I was only able to acquire it from a trade show I had been to and they were in the really large tubs available in one colour or mixed colour - and the UK were the predominant carriers of them so it was definitely hard to come by. But after doing a make-and-take with them and meeting one of their reps, Marti has worked something out so that she will be carrying the boxed sets on Pez-a-Doodle Designs! *squeals* Here are the lines: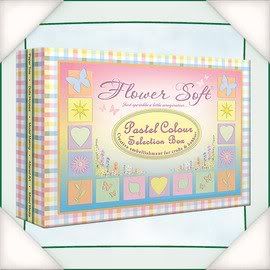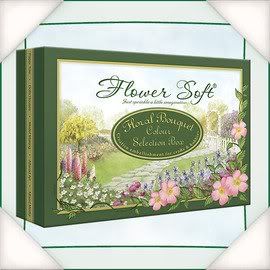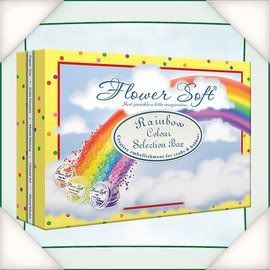 We can all say it together now, oooooooh aaaaaaah! Or for those who wish to join me, w00t! Just remember that most of these are orders that are new releases (these are new releases to Canada/US) will not be shipping out for another couple of months, so just make sure and stay tuned to Marti's blog (http://pezadoodle.blogspot.com/) to find out when they are going to be available for pre-order and when they are going to be shipped to her, as these can be two very different things. But HOLY MOLY, these are SO much fun! I had forgotten after I'd had them for a while, but there's nothing like a make-and-take to get you all riled up again! Also as another small announcement for that, the rep from Flower Soft has told us that they are working on a certification class for Flower Soft maybe in the JULY CHA!
On another side-note, guess who's registration has been accepted for the COPIC CERTIFICATION CLASS in Toronto on March 24?!?! ME! I am SO excited!
Let's see, let's see, what else did I promise for you today....oh RIGHT!
STUDIO G NEWS! This one, I'm also not sure that I can release just yet as this is pretty much Marti's baby from the beginning, so I'm going to hold off on all the details until I get the go-ahead but BELIEVE ME when I say there is going to be some AWESOME things coming up with Pez-a-Doodle Designs and Studio G! I am so excited I can hardly contain myself, proving that, as today I was introduced to the Studio G rep and head customer service agent as a Studio G fanatic! I'm almost biting my tongue (figuratively speaking of course) so that I don't go blurting it all out before it's nice and time. But I promise there's so much fun to come, it'll definitely be worth a little bit of tense, excitable anticipation!
I'm going to post another thing here instead of making a new section for it - although I am REALLY loving and appreciating all the comments you are taking the time to leave for me, I don't want you to have to post a million more times as I can get overly chitty-chatty. I just wanted to show our make-and-take from Tim Holtz's Idea-o-logy (or whatever it's called, I can't look right now....my forehead is almost the one typing out this post) booth: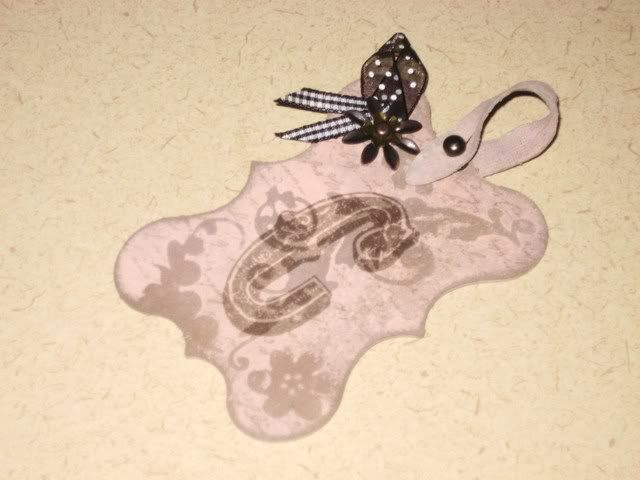 That's our make-and-take luggage tag (or bag tag as some people like to correct me with) and I wanted to show it because it incorporates a bit of the things that I am currently in the process of giving away. The tag was die-cut from grungeboard and there you will see the mini masks as well as the floral flourishes and new stamp line (not included in giveaway). So that's one teeny, tiny little idea of what you can do with all the goodies you'll get should you be chosen as our ultimate Tim Holtz Advantus winner!
If you are looking for more goodies, don't forget to stop by Marti's blog to win the ENTIRE new releases of...BWHAHAHA...that's how I know my mind has gone to sleep without waiting for me, I totally forgot for a minute what the giveaway was and I couldn't for the life of me pull it out of my mind...so again, like I was saying, you could win the ENTIRE SET of lights and brights alcohol inks for participating in her blog giveaway!
CURRENT MOOD: LISTENING TO: