I apologize that there was a lack of posting for my last day, but everything shifted into warp speed (kind fo like my sickening experience on Space Mountain...*LoL..cough* Suzanne...) but more on that later, on to some crafty goodness!
First off, if you missed the announcement, both Marti and I are hosting ULTIMATE CHA giveaways to commemorate our first time attending CHA. Courtesy of the lovely Pez-a-Doodle herself, I am giving away a great portion of Tim Holtz's Advantis line of grunge-y goodness - you can get the complete 411 on that by clicking >> here <<. The official contest deadline has been extended from the 28th to the 30th to give me some time to catch up with all your comments, suggestions and questions! To double our giveaway fun, Marti is giving away the entire, I repeat the entire, not yet released LIGHTS and BRIGHTS line of alcohol inks.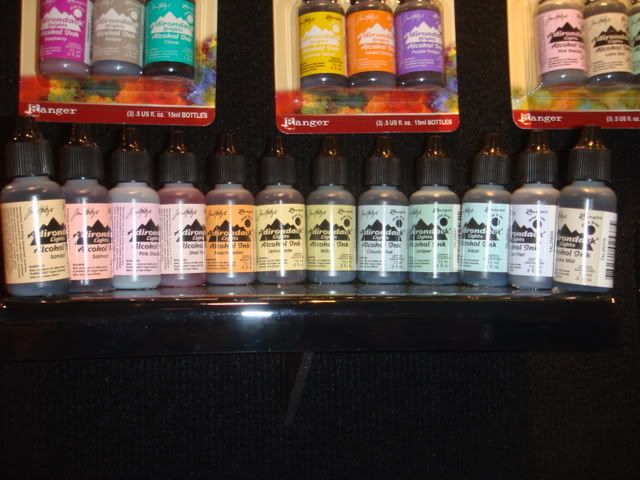 HOLY MOLY! If I could win them, I would definitely try!
Okay, I am also excited about a couple more things that I've got listed for me to chit-chat about (after six days, can I just say how EXHAUSTING all this excitement is???)
Now if you've been a visitor for some time now, you'll kno wjust how much I've been COVETING all things nest-like...as in NESTABILITIES! *swoons* so can I just point out that it's nice that Marti knnows people? And that it's nicet hat I know Marti???? HAHAHAHA...Iknow that I'm probably the last to know this, but our own Terri (terrikrafts) from The Board is a carrier of the beloved Nestabilities?! Where have I been? I know! so this weekend, missy me has placed an order for her own precious sets of nesties...all.For.MEEEE!!! I am already cursing the post for their slowness because I want them NOW! So if you've been dying for a set or two, drop me a line and I will hook.you.UP! Terri is the BEST! You can never go wrong with her, she took good care of us Cricut board girls this weekend, lemme tell ya!
If you've already got Nesties, let me also point out that Terri is already accepting pre-orders for the NEW releases that we were able to see with our own eyes! Even better than that (yes, I know my announcements keep getting better and better - so keep reading!) she will also have IMPRESSABILITIES! If you have not seen these babies in action, let me tell you, they are a must have, not just a must want!

So as you can see, they are nice and pretty AND folder-less! That's right, anywhere placement without the folder! Plus, as the lovely Wendy from Spellbinders has pointed out, the soft metal and the low retail costs makes it easier to buy TWO - one to keep whole and one to cut up into multiple, smaller portions to use however/whichever you like!
Stay tuned for my CHA wrap-up...I'll finally be HOME!
CURRENT MOOD: THE WALKING DEAD CURRENTLY LISTENING TO: ENGINES