...this card could NOT have taken any longer to come to me. I always knew I worked better under pressure, but I almost scared myself for a minute.

Last week, a co-worker of mine had asked me to make her MIL a 65th birthday card and of course, getting way over-excited and ahead of myself, I eagerly agreed.

And for the life of me, I could NOT think of a card to make. I had sat down and tried, but nothing really seemed right. I had originally taken out my browns, tans and golds paper until I realized she was just 65 and not deceased. It just looked so...BLAH. So days go by and my co-worker was like...I'm going to need it pretty soon and I'm all, oh yeeeah, don't even worry about it. When meanwhile, I'm saying to myself, "Self, holy crap. What are we going to DO?"

And so this morning, after I dragged myself into and out of the shower, I was sitting in my craft room at my craft table à la towel turban and fluffy robe just staring at what I thought was nothing when all of a sudden my vision focused and I realized that I was staring at my new tote (STILL so fab, by the way!) my PINK and BLACK tote. Thumbing through my mental cardstock rolodex, I thought of the colours I could work with and voila: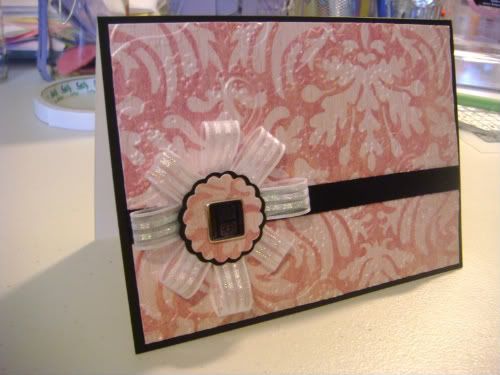 The pink cardstock is from my DCWV something or other collection slab and I Perfectly Paisley embossed the crap out of it, running it through backwards and forwards a couple of times. The ribbons are from Creative Bag and I cut the scalloped circles (quite poorly I might add, they don't even match up - yes, this is just me trying to justify getting Nestabilities for myself after the ban) with my Cricut using Mini Monograms.
I had originally had a 65 in the middle of my scalloped circles, but kind of wrinkled my nose at it because it reminded me of those age cards, you know, like the one that says, 'You're 2!' Bleeeh....I mean, she's 65 years old for crying out loud, I'm pretty sure she knows how old she is by now...(barring Alzheimers and all...)
So I opted for a decorated metal brad with the letter H in the middle for her initial. I stamped happy birthday inside with a Studio G stamp. It was kind of simple, and it kind of looks simple in the picture, but I swear it looks more sassy and PRETTY in real life. The ribboned-flower is also more irridescent so it doesn't totally jump out at you like it does in the picture.
Ah well, 8:30 comes and goes and I'm still at my desk glueing the scalloped circles. I'm supposed to BE at work at 8:30. Yikes.
Get to work late with Starbucks for all (I have perfected the art of being late without anyone getting mad at me) and a wonderful card for the co-worker (who also thinks I made it LAST night).
Yes, I am aware that I have some issues I need to work through...
CURRENT MOOD:
CURRENTLY LISTENING TO: DON'T - SHANIA TWAIN