...I LOVE getting mail. I think it's one of my top favourite things next to shopping and scrapping/cardmaking!
Yesterday, after a particularly hairy day at the office, I was raging to get home to have a MAJOR vent session with The Mister.
I'm usually always the first one home so my "job" is to go get the mail, and what do you know, there's something there for ME (besides the ginormous credit card statements that I've been receiving thanks to all YOU ladies on The Board)! I open it up and there are my beautiful spirit ladies from Kris Price! SO nice of her. She was the very first person to offer to RAK me something!
After everyone went crazy over the grab bags and started saying they weren't really like the spirit dancers, I think I commented that I thought they were nice and next thing I know, I've got a PM from someone offering to send me hers!
To be honest, I've only ever heard about RAK's only after I joined The Board, so I'm not used to people sending things to me and not asking me to pay for them. I'm still a bit uncomfortable accepting things, but I did make her a thank you card with the stamps that she sent!
Have a looky-look: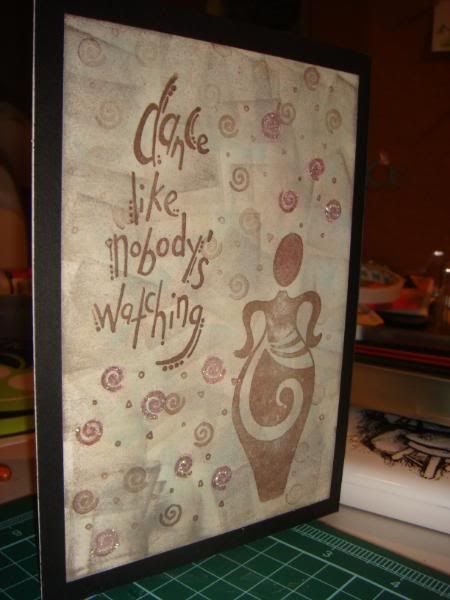 I used these small 1x1 stamp pads that I'd gotten for like, $2 for 6 of them at a surplus store. Kind of went crazy with those and used each colour on my cardstock, inking directly. After that, I opted to stamp my lady with my brown ink and the sentiment as well. I also used some little decorative swirly stamps to fill in the empty spaces. I had bought this really fine glitter from M's (with the Paper Dolls that I bought!) and wanted to experiment with it, to see if I could use glitter without making a glittery mess on everything including myself and I think it worked out fairly well! I used my ZIG pen, sprinkled the glitter on top and fixed everything with hairspray!

So there's my Thank You card from here. Inside, I stamped a Thanks a Bunch message using my Studio G wood-mounted stamp and coloured it in using my Prismas and mineral spirit. Hope she likes it!
CURRENT MOOD:

CURRENTLY LISTENING TO: TEMPERATURE - SEAN PAUL