...and beads that are NICE!
Remember the clear, flat-backed beads that I had posted a few days back and then RAK-ed? I sent Nicole the samples and she got SO excited when she found some at her local M's. She bought one of every colour and posted an announcement for them on The Board and it really picked up!
The Mister got carried away with some paperwork for his business, so I snuck (okay, well I didn't HAVE to sneak in there, but I WAS the one who promised I would be paying 100% attention to him and not The Board or The Room) into my scraproom and got down to business.
If you remember my re-colouring of the brads from the tips and tricks book I had read from, I thought I could also try these with my beads. I used my Making Memories needle tool and stabbed the flat part of the bead. Wiped it onto my embossing pad and dipped it into my embossing powder. Heat-gun, rinse, repeat. Well, nix the rinse part, that's just me being quite the clever Trevor referring to shampoo instructions. Oooh, okay, not funny tonight...moving forward.
ANYWAYS, I was sitting there after my triumphant attempts, with my chin in my hand and I happened to glance up at my shelves and saw my Thursday's acquisition. The super fine glitter! (HAHAHAHA, I sound like those players that refer to women as 'super fine'). I needed the glitter to stick to my little bead baby, so I got out my adhesive tape and wrapped it around the bead - FINNICKY work let me tell you. Again, got the bead up on my Making Memories needle tool thing and dipped it into the glitter. Sooo nice, I wished I could leave it that way, it reminded me of a jujube (my FAVOURITE word in the whole world). But I knew there'd be a hot mess of glitter everywhere if I didn't take care of it, so I put it under my heat gun for a bit to soften the adhesive underneath all that glitter, and when it got soft, I pressed the glitter into the adhesive and then rolled it around in my fingertips.
'Nuff talk,' you say, 'get to the pictures'...happy to oblige!
Introducing:
SilkySkittles - because they look so smooth and silky!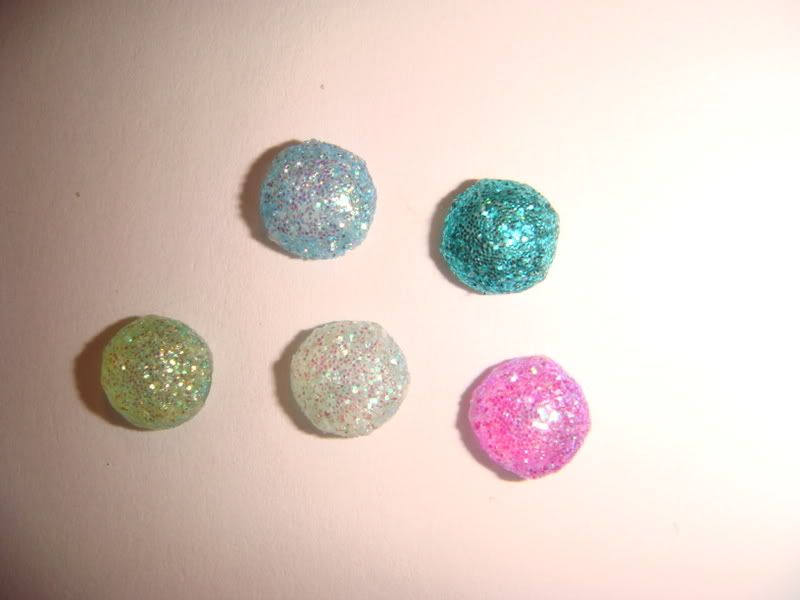 SugarSkittles - because of the adhesive tape, when I wrapped it around the bead and glittered it, it was still a bit lumpy looking, so I wanted to call these SugarLumps, but it sounded kind of pervy, so I stuck with the Skittles theme.
I forget, but did I even mention to you what happened with the thread that Nicole started? Everyone was getting tired of calling them 'those little bead thingies' so Avra's mom announced that we should name them Skittles - after ME because I had first posted about them! *LOL* I LOVED it! In case I never mentioned it before, I'm SillySkittles on The Board. Pleasure. Nice to meet you. Charmed, I'm sure...Avra was saying it looked like I was on to something, too bad though, because I doubt Skittles(TM) will be willing to share their name with me. Ah well, it'll do for The Board!
CURRENT MOOD:
CURRENTLY LISTENING TO: HIT ME WITH YOUR BEST SHOT - ?