...or home inside my home? Anyways, seeing as I'm antisocial in real-life, we don't have a lot of visitors staying the night too often so I have comandeered the guestroom and have turned it into my wonderful scrapping room. (The guestroom also doubles as The Mister's closet, seeing as how I took over the master bedroom's closet).

Come take a little tour with me...I haven't posted anything like this on the boards, as I still feel like quite the newbie, and also because some of the girls' rooms put mine to SUCH shame...that's okay, I'm just starting out - plenty of time to catch up! And so we go...




So here we are...the view from the door, I didn't want to focus on everything else in the room because it's messy. I make sure to clean my scrapping area, but everywhere else is a war zone...LOL...

Please note the essential part of the scrapping area, the pillow on the chair. This is a MUST-HAVE because my bum starts to hurt from sitting here too long looking through threads and making posts so I can graduate from a Baby Bug to a Lil' bug...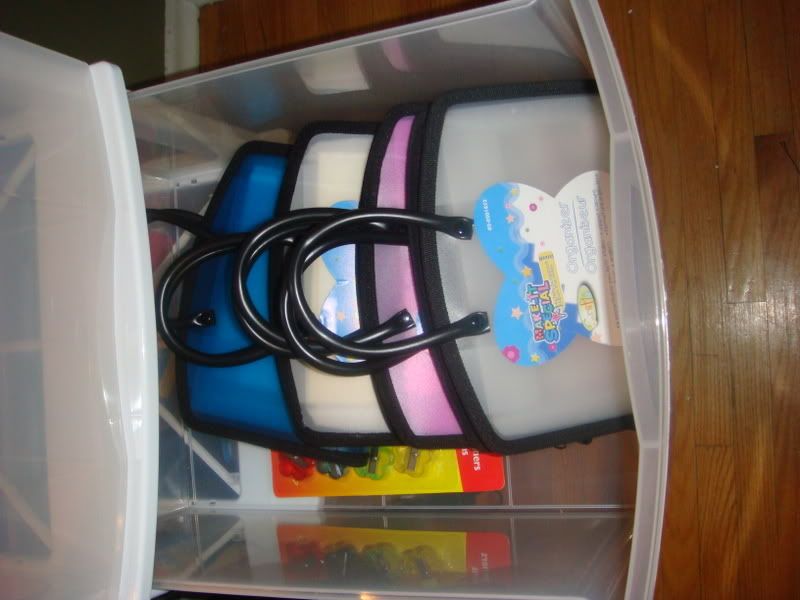 I was too lazy to rotate the picture, but you can see four files with handles ($1 each from Dollarama). One of the files has Primas - I'll have a better place to put them soon, another of the files have wooden shapes, and the other two files have 4x6 papers
Next drawer you'll see in the back corner a package of makeup sponges, haven't used them yet, but someone on the board mentioned them...so I got them. $1 from the dollar store as well. The red box contains assorted chipboard letters (three different colors - each colour set of alphabets $1 from the dollar store). The wooden box I had gotten intending to decorate it, but right now it is holding foam stickers (from the dollar store - am I getting reptitive). The two files are holding my Cuttlebug embossing folders and dies.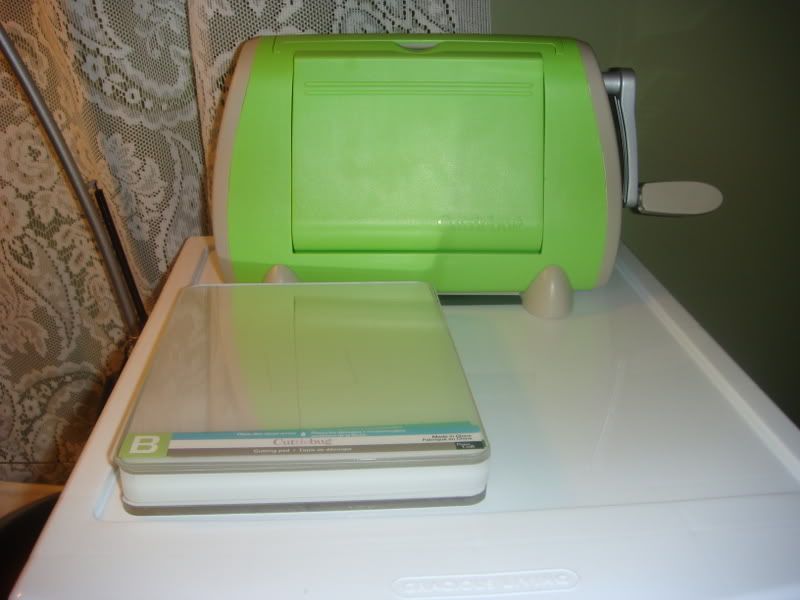 And the delight of the whole room (at least until my Cricut arrives and then it will take 2nd place), my beautiful Cuttlebug baby and the mats...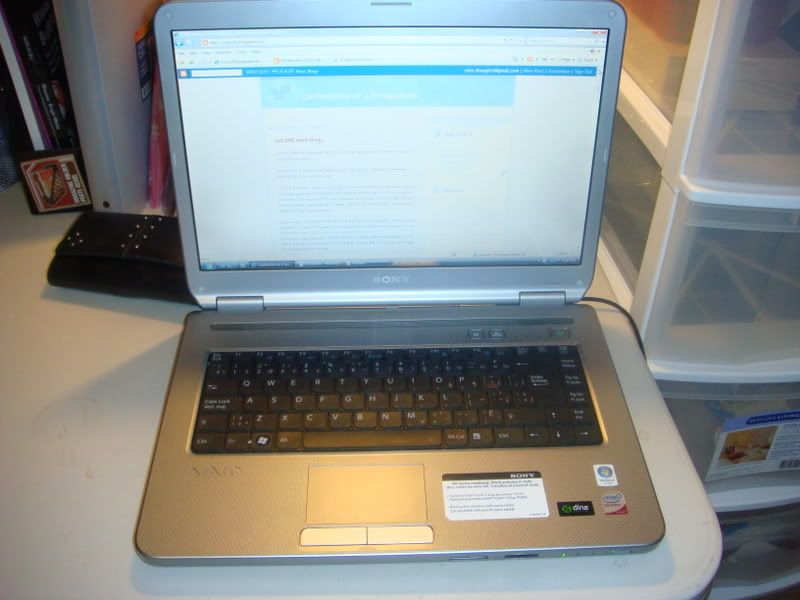 Ah-ha! An essential asset to stay connected to the message boards...and a great accomplice to keeping me connected to the people who keep enabling me to buy things! Also will be very useful for when I have acquired Design Studio
Absolutely necessary for me to have beside me...so I can buy all the things everyone on the board is talking about!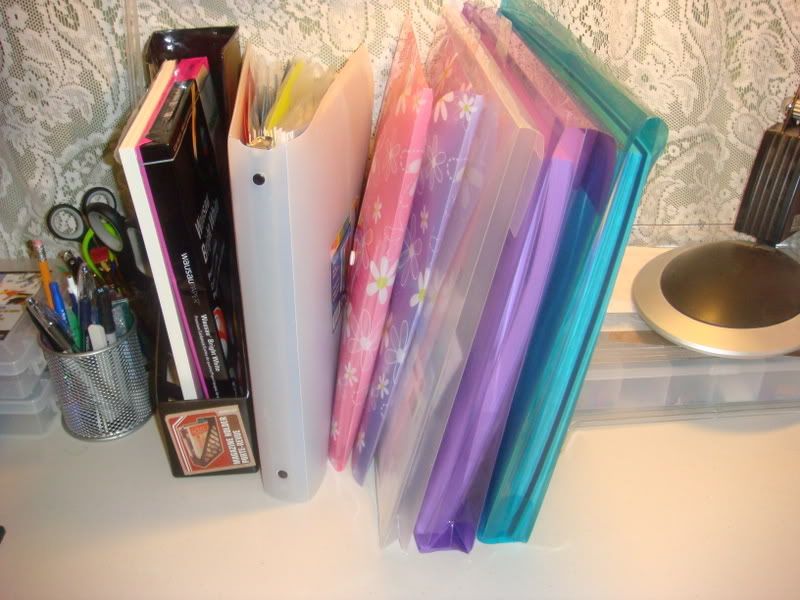 Paper, paper and more paper. Also 3D stickers and other embellies that don't fit into my sticker binder...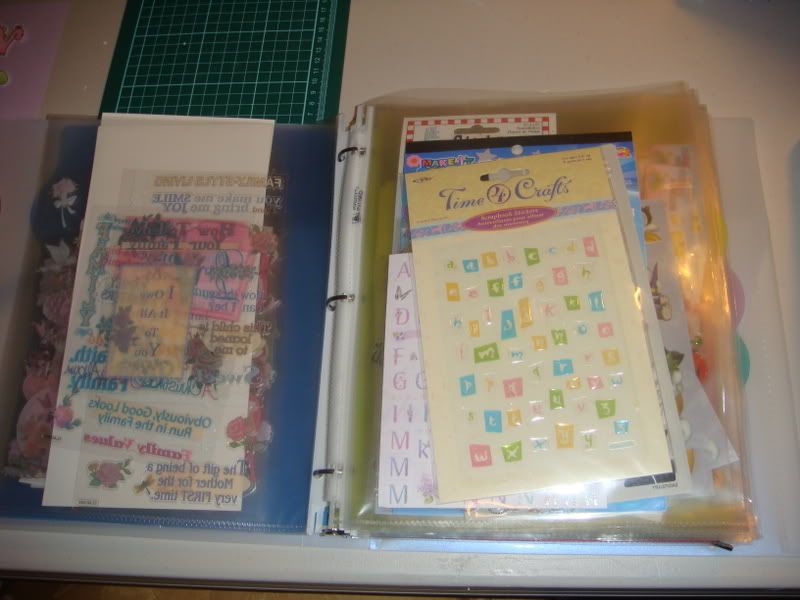 Speaking of which...my sticker binder. Lost count how many pages, but each page protector holds stickers of different categories and different kinds of stickets etc. (most of these from the $1 of course!)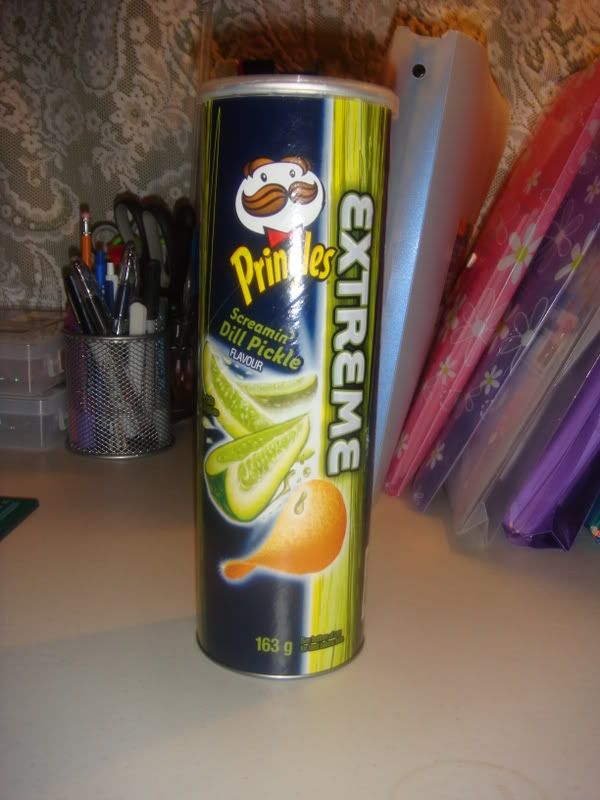 To keep up my strength without have to leave the room...LOL. And because they taste delicious!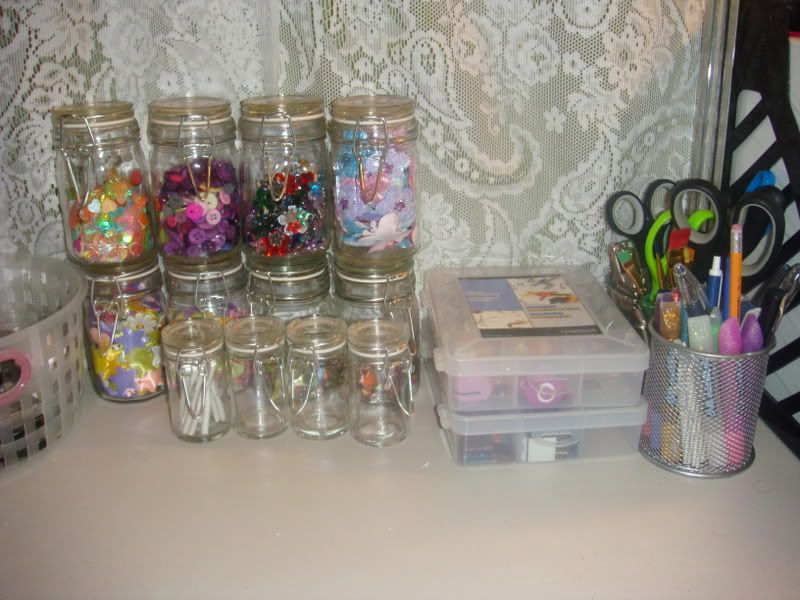 The fun part! I LOOOOVES embellies. They just add so much more to a card or layout. The ones in the jars I got from the dollar stores. Oh I forgot to move the smaller jars out of the way...the first small jar holds my blending stubs. In the plastic storage containers are just more smaller embellies and my small punches.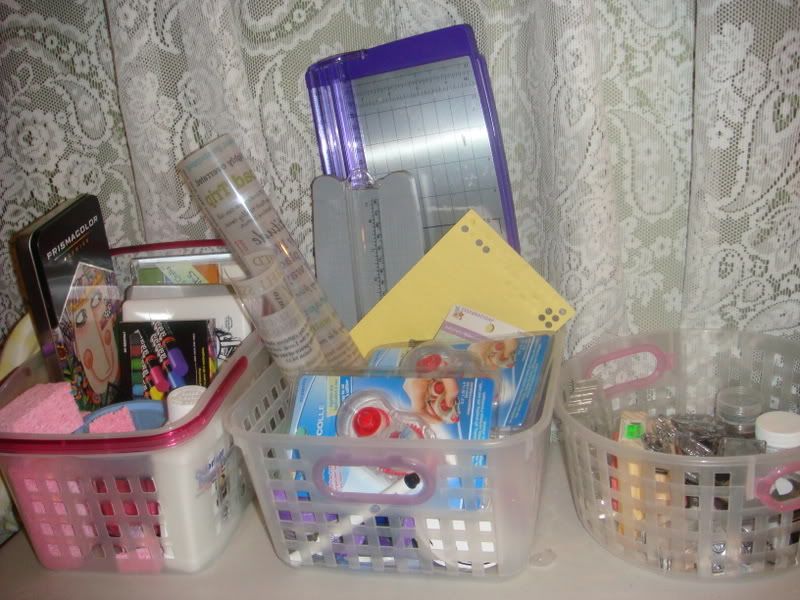 And last but not least, the bins (of course, from the dollar store) The circular bin holds my stamping things...so far a couple of ink pads, two wooden stamps and my clear stamps...plus some embossing powders. The middle bin has all my essential materials, glue/tapes, foam dots, some ribbons, and paper cutters, the last bin has the artsy things, prismas, pastels, blending chalks, mona lisa, sponges and my eyelet tool kit


So here's my work area for now...it'll all get changed around again I'm sure once my Cricut baby makes its way home!

So far, I've been on here talking about scrapping and my scrapping area, but I actually haven't really done much scrapping as of late...but it's fun to know I have a lot of STUFF to use when I decide to get down to it!
CURRENT MOOD:
CURRENTLY LISTENING TO: HATE THAT I LOVE YOU - RIHANNA & NE-YO